Permission Granted
Kick-ass Strategies to Bootstrap Your Way to Unconditional Self-Love


If there is anyone who stands poised to empower others to get from where they are to where they want to be, it's beloved memoirist and motivational speaker Regina Louise. She is a fabulous and fierce Black woman who has spent the last three decades advocating for what becomes possible when we give ourselves permission to live our best lives.

After living in over 30 foster homes, group homes and psychiatric facilities before the age of 18, Regina put herself through college on scholarship, wrote two bestselling memoirs, and began touring the nation telling her story and inspiring others to live life on their own terms.

In Permission Granted: Kick-Ass Strategies to Bootstrap Your Way to Unconditional Self- Love Regina says, "Often we need to awaken to the fact that we may have unwittingly given our power to others, and we need to make moves to take it back. Your life need not be as dramatic and/ or chock­full of adverse childhood experiences as mine in order for you to recognize that you deserve better and to accept that changes need to happen."

"I am not here to talk anyone out ofunderperforming their life," she continues. My onIy hope is to be a go-to for you, a friend, a mentor, a confidante or coach, someone to support you in realizing what is written on the walls of your heart, and to help you compose a new reality if what is written no longer serves you." ·

"Who says that being born a woman of African descent, poor, supposedly unwanted, neglected, marginalized, stigmatized, and labeled bat-shit-cray means that's all life will ever be?" writes Regina. ''No matter our walk of life, in my experience we always have the opportunity to expand our consciousness, come into awareness of our full potential, and grow ourselves up to fill our own shoes."

Permission Granted puts a unique spin on tried-and-true techniques of personal growth as it helps readers deeply understand who they are and what they have been through. From this place of self­-awareness, Regina helps readers transform past devastations and disappointments into motivations and momentum. With her own life experience being an ultimate example, she guides them toward self­-compassion so they can learn to give themselves the care and support their lives may be lacking.

"As a result of going the distance and staying the course of my highest good, I became inspired by my challenges to spend the past three decades advocating for what's possible when we honor the sacred within us: our own love, our own acceptance, our own dignity, our own bodies as a place of refuge," writes Regina. "Unconditional love permits me to know what is true about me: I am right to be here! I am right to love myself! By grace alone, I am worthy."

About the Author: Regina Louise is the author of Permission Granted. Her bestselling memoirs Somebody's Someone and Someone Has Led This Child to Believe were made into the award-winning Lifetime movie I Am Somebody's Child: The Regina Louise Story, which was nominated for a 2020 NAACP Award for Best Director. A summa cum laude graduate of the California Institute of lntegral Studies with a master's of fine arts degree, Regina is a Hoffinan Process teacher, workshop facilitator, and motivational speaker who lives in the San Francisco Bay Area. Her story has been featured in media outlets like NPR's All Things Considered, Good Morning America, The CBS Early Show, The Tavis Smiley Show, and many more. Visit her online at http://www.IamReginaLouise.com.


Permission Granted by Regina Louise
• 320 pages • $16.95 • ISBN 978-1-60868-726-8
Book Release from New World Library
No September Book Reviews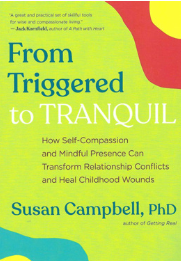 Lotus Flower Living:
A Journaling Practice for Deep Discovery and Lasting Peace


Transform any pattern of deeply held limiting beliefs with this simple yet profound step-by-step guide based on Julie Matheson's proven Lotus Flower Living Journaling Practice.
Lotus Flower Living is about conscious thinking and conscious living. It is the embodiment of the peace, freedom and joy that awaken in you when you confront and fully resolve an emotional challenge.
The Lotus Flower Living Journaling Practice allows you to change entire patterns of thought and belief at once. It shows you how to awaken from the illusions of your particular challenges, one issue at a time, liberating you from habitual patterns of pain and suffering.

Through this journaling practice you can….

• Discover truths your mind can no longer argue with
• Find compassion for yourself and others
• Awaken a natural appreciation for the precious life you live
• Gain a clearer perception and see things for what they truly are
• Raise your self-esteem and upgrade the people and experiences you attract
• Become less reactive and set better boundaries
• Easily make healthier choices and open doors to new opportunities
• Experience a sense of arrival, completion and true success

This book is for you if:

1. You have a painful pattern of thought, feeling, behavior, belief, or a health issue, that you would like to completely transform.
2. You are spiritually oriented and have a burning desire to heal your life in a lasting way.
3. You understand that your thoughts, feelings and beliefs contribute to your experiences, and are willing to explore them.

Julie's motto is: One pattern at a time; always address the most troubling issue first; and remember you are not your patterns. You are so much more! You don't have to wait for a painful event to trigger yet another wake-up call. You can create your own awakenings gently and powerfully today.

If you were inspired by Eckhart Tolle's The Power of Now, and particularly his teaching series, Living the Liberated Life and Dealing with the Pain-Body, you'll appreciate this book.

Here's to you creating a life you love. Consciously.

About the Author: Julie Matheson, MA, RScP, Reiki Master, helps her clients and readers gently change their emotional and behavioral patterns through her guided writing processes and energy clearing work. Highly motivated to heal her own life, she developed a journaling practice that allowed her to transform complex emotional patterns within herself one issue at a time, in one sitting. After many changed patterns, she discovered an energetic signature - the Lotus Flower - which she simply defines as being more consistently connected to the purity of your own sweet soul. Julie has been in private practice seeing clients since 1999. She shares time between Boise, ID and Cambridge, MA.


Lotus Flower Living by Julie Matheson
• 191 pages • $18.98 • ISBN 978-1-7337807-2-8
• Audible (5 hrs. 2 min.) • $19.95 • 978-1-7337807-8-0
Book Release from local Idaho Author

Hedra Note: I personally have had some amazing results in sessions with Julie Matheson using her Lotus Flower Living Journaling process. Julie helped guide me to dug deep and I found energies I didn't even consciously know were part of me. It is an amazing feeling to actually do a pattern release and come through the other side not carrying that energy anymore.
Being Better

Stoicism for a World Worth Living In
Being Better by Kai Whiting & Leonidas Konstantakos
• 168 pages • $16.95 • ISBN 978-1-60868-693-3
Book Release from New World Library