TEN POEMS FOR DIFFICULT TIMES
Poetry to Guide Readers through Life's Most Challenging Moments
Great poetry has, the power to start a fire inside a person's mind. It can alter the way we see ourselves. It can change the way we see the world. And in Ten Poems for Difficult Times, acclaimed teacher and bestselling author Roger Housden says that poetry is especially important in times of darkness and diffIculty.
"Poems like the ones in this book shake me awake. They pass on their attentiveness, their insight, their love of this broken world to me, the reader," writes Housden. "We ourselves can wake up to the world and to ourselves in a new way by reading poems such as these - especially when we read them aloud, and shape the sounds on our lips and the rhythms on our breath - making us more fully human."
"You may never have read a poem in your life, and yet you can pick up a volume, open it to any page, and suddenly fInd yourself blown into a world full of awe, dread, wonder, marvel, deep sorrow, and joy," writes Housden. "Poetry not only matters; it is profoundly necessary. Especially in times of darkness and difficulty, both personal and collective. To read or write poetry is a powerful, even subversive, act, and it is one small thing we can do that can make a very big difference."
Ten Poems for Difficult Times is the seventh volume in Housden's bestselling Ten Poems series of gift book anthologies. In addition to Housden's insightful and much beloved commentary, the book features poetry by W.S. Merwin, Wendell Berry, Ellen Bass, Conrad Aiken, Maggie Smith, and more.
"Poetry can give a human face to our collective struggles and remind us that this human world is not only broken, it is beautiful. That is what the poems in this volume do," writes Housden. "There's a headstone in a Long Island graveyard - the one where Jackson Pollock is buried - that I think encapsulates the value and necessity of poetry in a world of sorrows: 'Artists and poets are the raw nerve ends of humanity. By themselves they can do little to save humanity. Without them there would be little worth saving.' "
About the author: Roger Housden is the author of the new book Ten Poems for Difficult Times, the most recent addition to his best-selling Ten Poems series, which began in 2001 with Ten Poems to Change Your Life. He offers writing workshops, both live and online, with an emphasis on self-discovery and exploration. Visit him online at www.RogerHousden.com.
Ten Poems for Difficult Times by roger Housden
• 136 pages • $19.95 • ISBN 978-1-60868-529-5

Book Release from New World Library
CHAKRA HEALING FOR VIBRANT ENERGY:
Exploring Your 7 Energy Centers with Mindfulness, Yoga, and Ayurveda

When she was just twenty-eight-years-old, the author learned she had thyroid cancer, Changing her diet increasing her exercise regimen, adding meditation, and improving her relationships all helped.in her journey to healing. But it was in exploring the thyroId gland and its location in the body that she learned about the fifth chakra and subsequently began to see the connections between her current illness and the first twenty-eight years of her life. Through her healing process, she discovered that most of her illnesses in childhood and young adulthood revolved around the area of her throat. Stunningly, she realized that her newfound awareness of the chakras gave her a huge advantage over her fellow patients suffering from thyroid cancer and other thyroid diseases. That's how Chakra Healing for Vibrant Energy was born.
Michelle digests the ancient tradition of working with chakras into seven parts - which are in perfect alignment with the seven chakras - using every aspect of the mind, body, and spirit. In the process, she teaches readers how to improve energy and vitality with practices and meditations. Michelle is also a wonderful speaker and seasoned radio guest.
Michelle's talking points include:
• What is a chakra and why is it so important for healing?
• What is Tantra Yoga and how can it work with the chakras?
• How do I know if my chakras are blocked and how do I unblock them?
• What practices can I do to support healthy chakras moving forward?
• Do I have to work on my chakras in a specific order?
• How does chakra healing tie in with other healing modalities?

From the book: "Spiritual and energetic in nature, chakra healing can be a wonderful addition to help you understand the intricacies of your health, just as it did for me. In chronic or advanced stages of a disease, chakra healing can help you hasten your recovery by unblocking the areas of the.body that are ailing."

About the author: Michelle S. Fondin, author of Chakra Healing for Vibrant Energy and The Wheel of Healing with Ayurveda is owner of the Ayurvedic Path Yoga and Wellness Studio, where she practices as an A yurv~dic life sty Ie counselor and as a yoga and meditation teacher. She holds a Vedic Master certificate from the Chopra Center and has worked with Dr. Deepak Chopra teaching yoga and meditation. Find out more about her work at www.michellefondinauthoLcom.
Chakra Healing for Vibrant Energy by Michelle S. Fondin
• 256 pages • $15.95 • ISBN 978-1-60868-534-9
Book Release from New World Library
BREAKING UP WITH BUSY
Real-Life Solutionsfor Overscheduled Women
Women today have reset the bar, and it's high. They collectively aim into the stratosphere: to be the most creative and dynamic professionals, the parents with all the answers, the most understanding and loving partners, and the best and most reliable friends. Their perfectionistic expectations have led to an unrealistic and terribly demanding mind-set, and they multitask from one event to another, silently murmuring under their exhausted, coffee-soaked breath, "Something's got to give. I'm tired of it always being me!"

Women said they could do it all, so they got it all. All being family, career, and self-fulfillment. Only the price many women pay to run this race includes health challenges, career delays, more financial responsibility, and more societal expectations that they should be able to do it all without missing a meeting, losing their cool, or looking frazzled.

"If you're one of the 55 million women struggling to reclaim your days, without the flurry of hustle and rush, your fIrst step out of the busy race is to stop and take a break," writes Yvonne. "This book gives you an effective - and fun - process for bringing back your brand of well­-deserved enjoyment and calm. You'll decrease the hurried frenzy of getting it all done and learn to lighten up on yourself and to reassess your expectations."

Breaking Up with Busy helps women identify what type of Overscheduled Woman (OSW) they are, while recognizing the signs that lead to their busy pace. Yvonne details a powerful Five-Step Super Solutions Process as a go-to tool for dropping busy habits, and offers a host of mindfulness-based, busy-busting solutions throughout the book. Also included are fIfty-two inspiring refreshers and reminders designed to carry readers through each week of the year.

"This book will be your magic wand, your golden ticket, and your secret sauce," writes Yvonne. "As you step forward into your light, you lay the path for these other women to follow. Together, we can change the paradigm of what having it all means, and in the process, establish a juggernaut of change, so that every woman finds herself to be enough. Breaking up with busy is the first step."

About the author: Yvonne Tally is the author of Breaking Up with Busy and leads meditation and de-stressing programs for corporations, individuals, and private groups in Silicon Valley. An NLP master practitioner, Yvonne cofounded Poised Inc., a Pilates and wellness training studio, and is the founder of the Sisterhood of the Traveling Scarves, a charity that provides headscarves to cancer patients. She lives in Northern California. Visit her online at http://www.YvonneTally.com
Breaking Up With Busy by Yvonne Tally
• 216 pages • $18.95 • ISBN 978-1-60868-525-7
Book Release from New World Library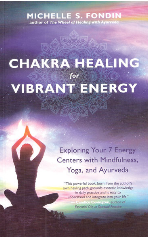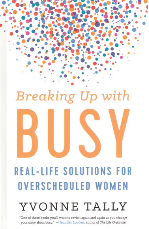 See below for correction from the printed paper for the ISBN #...etc.